Join us for Juneteenth Freedom Week's TECHnically Free Forum & Pitch Competition, where we celebrate freedom and innovation on June 20th!
TECHnically Free: Miami Innovation for ALL
A panel conversation and networking experience with Miami's government, business, and professional leaders shaping Miami's innovation ecosystem. Attendees will learn how businesses of all types can embrace the innovation revolution and create or be apart of disruptive businesses.
Event Details:
Welcome Remarks – Rodrick Miller, CEO and President, Beacon Council
Shaping a Business Innovation Community for All Panel
Michealjohn Green, Deputy Director of Economic Development
Kenasha Paul, Program Director, Venture Miami Opportunity at City of Miami
Hilmon Sorey, Investor and Advisor, TechNolij
Leigh-Ann Buchanan, President, Miami-Dade Innovation Authority
FUNDing Your Legacy Pitch Competition presented by TradeStation
College Division
Startup (> Less than 2 Years)
This is an opportunity to provide seed funding to companies with new business ideas and to support the development of bringing their ventures to life. The pitch competition will have two divisions: college and new business idea. Founders apply at mybpn.org/juneteenth and submit a business concept within the following categories: technology, consumer product goods, commercial real estate, and/or food & beverage. The finalists will be invited to do a 4-minute pitch and 1 winner in each category will be selected for the grand prize.
Closing Remarks – Mayor Danielle Levine Cava, Miami-Dade County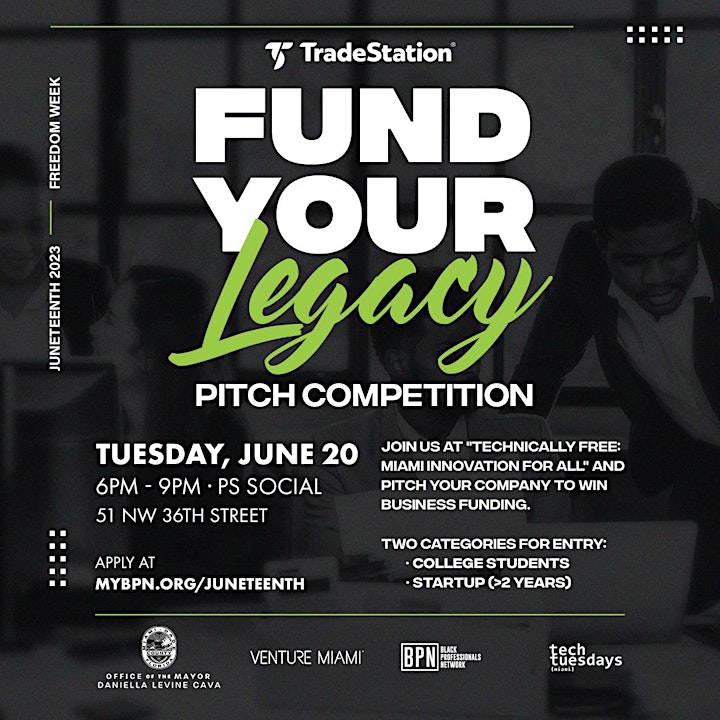 TradeStation is going to Fund Your Legacy!
This is your chance to secure seed funding of up to $5,000 for your business idea! You do not need to have an established business, just submit a business concept in the following categories:
Technology
Consumer Product Goods
Food & Beverage
Consumer Services
Be able to convey a clear business concept, define a serviceable audience or market, and articulate the use of funds. Upload a pitch deck no more than 10 pages. You will be notified by June 16th if your business idea has been selected to present at the pitch competition on Tuesday, June 20th, where you will be asked to give a 4-minute presentation to our panel of judges.
Apply to participate [HERE] – Deadline to submit is June 15th at 8pm EST.